There will always be consumers, and when there are consumers, there will always be marketing, even though no one can accurately forecast how marketing will act in the future. Due to the pressure on online marketing to keep up with the rate of technical advancement, intriguing digital marketing trends appear.
Social media marketing is the practise of promoting or marketing products and services via online social networks. It comprises creating content and communicating with users on social networking sites such as LinkedIn, Facebook, Twitter, Instagram, and YouTube. Paid advertising campaigns, influencer marketing, and other activities may also be used to reach potential clients.
Sales growth, lead generation, and brand exposure are all aided by social media marketing. It helps to establish consumer relationships and is a cost-effective way to reach huge audiences.
What is highlighted now m; conversely very easily be gone tomorrow, and conversely, what is not a factor today may be essential tomorrow. Digital marketing and social media are dynamic, ever-evolving professions.
To handle successful marketing initiatives, marketing professionals must constantly stay up to date on the newest web developments.
If it were straightforward to accomplish, everyone would do it.
Social Media Marketing Benefits
Increased Brand Awareness:

Social media marketing can help to spread your brand's message and increase its reach.

Improved Brand Loyalty:

By engaging with your customers on social media, you can build stronger relationships with them and increase their loyalty to your brand.

More Opportunities to Convert:

Every post you make and engagement you create is another chance for your customers to convert.

Higher Conversion Rates:

By engaging with your customers on a personal level, you can encourage them to make a purchase.

Better Search Engine Rankings:

The more content you create and share, the more chances you have of appearing in search engine results.

Cost Savings:

Social media marketing is much cheaper than traditional marketing.

Increased Inbound Traffic:

Generating traffic from social media can be much easier than other marketing channels.

Improved Customer Insights:

Social media allows you to better understand your customers and their needs.

Increased Brand Authority:

When your brand is mentioned and shared on social media, it can increase your authority and credibility.

Competitive Advantage:

By staying active on social media, you can stay ahead of your competitors.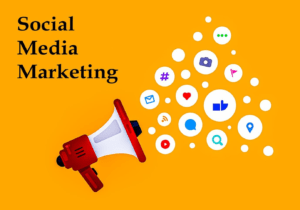 Trends in digital marketing to watch in 2023
Customer satisfaction is non-negotiable  :-

The customer is king and demands an easy shopping experience. Customers today will only accept a customized experience that speaks to their specific demands.

The most critical factors for customers are communication, timeliness, convenience, helpful staff, and courteous service, with 73% of respondents saying that customer experience influences their purchasing decisions.

The Outstanding client experience will be given more attention starting in 2023.

The influencer phenomenon persists   :-

Social media influencers have provided marketers with a big chance to use their notoriety for word-of-mouth promotion. Influencer marketing enables businesses to reach a wider target audience, generate leads, and establish new trends. Influencers chosen by brands serve as brand ambassadors and aid in establishing trust with consumers.

Influencer marketing, which involves a brand working with a person who has a significant online presence to promote their brand, is a result of this trend.

Websites that use interactive content to keep people interested  :-

Due to its higher level of engagement, interactive content outperforms static material. It entails two-way interactions with content including tests, games, interactive info-graphics, calculators, competitions, maps, and films.

Interactive content not only entertains visitors but also offers the following advantages:

Expanded leads
Improved client experience
Improved clientele service
Increased conversions
Improved brand awareness among consumers
Conclusion to Social Media Marketing
Social media gives businesses the chance to interact with clients, create bonds with them, and keep abreast of the most recent developments and dialogues taking place in the market. Businesses need to produce interesting content, be responsive and active on social media channels, track and assess their outcomes in order to get the most out of their social media marketing initiatives.