1. Putting Top-of-Funnel Prospects to the Side:
Your marketing funnel is specifically customized to how your buyer purchases; it is not a one-size-fits-all plan.
When you understand your clients, your marketing funnel adds more value to your marketing plan since you'll be better able to make decisions to enhance their experience as they travel through the funnel.
The 'AIDA' model is a common foundation for marketing funnels:
Awareness
Interest
Desire
Action
However, the funnels can be simplified into a three-stage model:
Top of the Funnel: Awareness
Middle of the Funnel: Consideration
Bottom of the Funnel: Conversion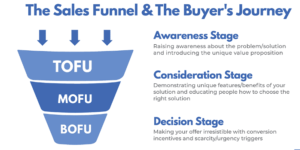 All of your competitors are focusing on bottom-of-funnel prospects, or those who are prepared to make a purchase, but not all of them are concentrating on top-of-funnel prospects (prospects who are in the research phase of their buying process).
By answering their queries, you can attract top-of-funnel prospects in one of the most efficient methods possible. As a result of giving them perceived value by responding to their inquiries, you introduce them to your brand, product, or service while also fostering a sense of loyalty.
2.Targeting a Too Wide Audience:
Social analysis tools can be used to scan follower bios for characteristics that reveal psycho graphics, which you can then use to inform the creation of content that speaks to their objectives, priorities, and lifestyles.
You may start enhancing your audience targeting once you've decided how you're going to collect, monitor, and manage your data.
The necessity to identify more affluent consumers and to segment for more specialized audiences grows when our campaign approach is concertized by a more targeted conversion. Experience and data have shown us that reaching out to a large audience is a less profitable investment and prevents firms from connecting with customers. A more focused strategy frequently has higher impact costs but a lower cost per outcome.
3. Failing to develop a road map for your strategy:
Using a road map will help you successfully carry out your business plan and fulfil your long-term strategic objectives. Business road maps are used by stakeholders to convey a company's goals and strategies at every level of development, from early-stage startups to mature enterprise businesses.
Businesses of all sizes may scale and innovate with the aid of business road maps. A business road map's goal is to illustrate precisely what is required to turn a company's vision into reality. Depending on the stage of corporate maturity, it can be as explicit or abstract as you require. Your company road map focuses on taking action. A road map is a timeline, therefore it allows you to specify what will occur in a specific month, quarter, or year.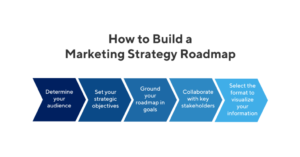 How can a business roadmap be made?
Establish your objectives — Decide what you want to accomplish, from hiring to revenue.
Assemble information — Consult with business executives and do market research.
Sort your inputs into themes  -— Identify patterns in your inputs.
Prioritize initiatives — Use these themes to frame initiatives, ensuring that each contributes to a particular objective.
Add time frames – Plan your resources and choose when each initiative should be finished.
Review and revision – Regularly compare your progress to the blueprint to identify obstacles and make necessary adjustments.
We sincerely hope you liked our blog post. Examine your plan, then get to work on it.
However, we'd love to get your feedback on what works and what doesn't. Have we forgotten anything?
Keep reading our blogs if you're interested in learning more about digital marketing tactics or any other related topics.